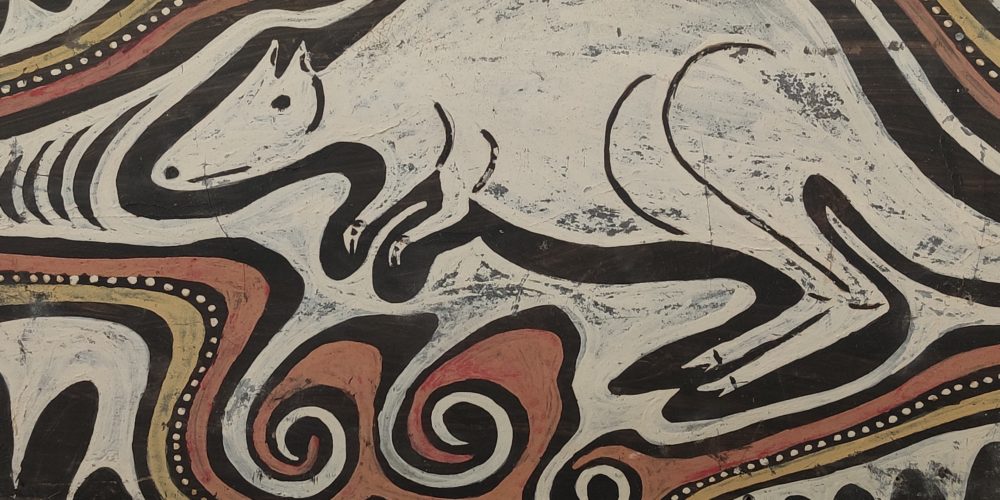 Contemporary works from Papua New Guinea
#Collection
Acquiring artworks all over the world
Private collectors meet individuals, cultures and discover works. It was in the context of exceptional encounters in Papua New Guinea during the summer of 2018, along the Sepik River, that Estelle et Hervé Francès discovered artists and acquired contemporary works with unprecedented origins.
From these instant crushes arose a forgathered collection of works, however, they were at the far end of the world. The question arises as how one can carry out the transport of artworks from Papua to France !
This mission will be entrusted to the stage manager to allow the artworks to join the Francès Collection and benefit from exhibitions, a broadcast which helps preserve the memory of Kwoma tribe.
Step 1 – Entrust the works to men of trust, at Inn Wewak Boutique Hotel whom we will never thank enough for their support, patience and dedication.
Step 2 – Consult specialized carriers qualified to handle formalities and transport from the isolated site of Papua. The tender leads us to choose the company Grospiron Fine Art.
Stage 3 – The route: Village of Sepik towards Port Moresby – 1000 km by boat then 200 km in 5 hours drive.
Step 4 – Entrust the works to an on-site freight forwarder, a rare enterprise in this territory. This will be a mission of «go and see» to organize the retrieval of the works kept in Port Moresby and also to be able to initiate the formalities.
Step 5 – The service provider observes all the works, and carries out mandatory treatment to depart from the country: fumigation. Simultaneously, the administrative procedures are progressing with the customs services: certificates and administrative elements are transmitted to obtain the permit to export cultural goods. The works are finally packed and cashed.
Stage 6 – The works embark on a long journey: about 25,000 km from Port Moresby to Brisbane (3) , Sidney (4) , London (5) before landing in Paris (6) , where the crate is received by the carrier prior to the delivery.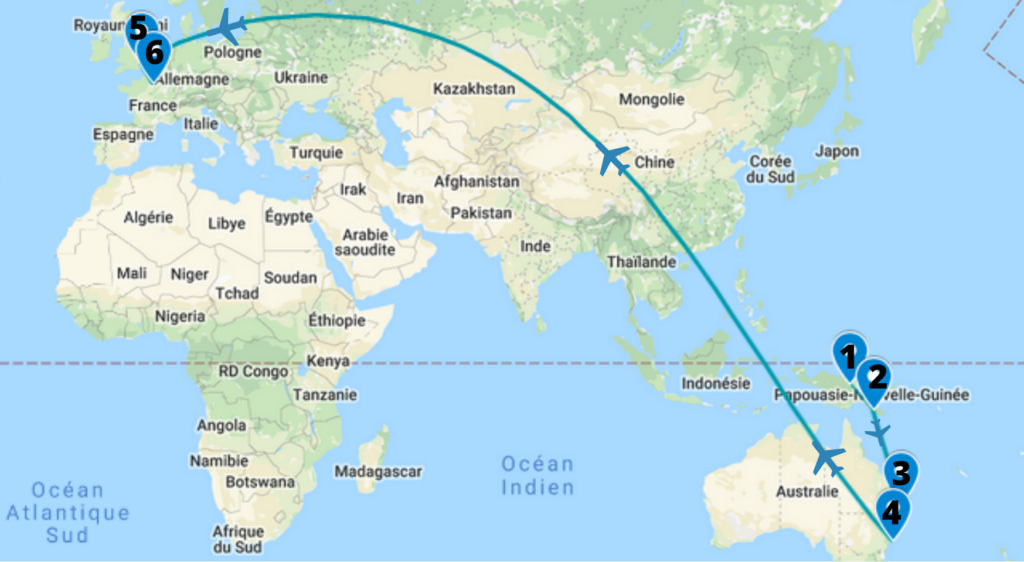 In October 2019, we welcomed the much awaited and precious works through the history, rituals and beliefs they convey. The artworks are registered and divided between storage and installations. Some require restoration or extensive dust removal, and the research continues to document these works as much as possible to broadcast them.
Unique artworks that will be honoured in 2021 with guest artists Kowspi Raymond Marek, Agatoak Roni Kowspi and Chiphowka Kowspi, of whom you may have already run into some works among the permanent collections of the Musée du Quai Branly.
All the artworks came from Papua New Guinea will soon be online on fondationfrances.com
Visual : Sans titre, painted palm bark, paint and natural pigments, animal figure, n.d., tribu Kwoma, Papoua New Guinea, Sepik region © Francès Collection – image © Arroi 2019